Birthlist / Baby shower
Au Berceau d'Or allows you to create your birth list online with products specially chosen by its childcare experts.
How do you create your birthlist?
1) Registration and Login
Create your account and log in
2) Create your list
Create your list by clicking on the Birthlist tab.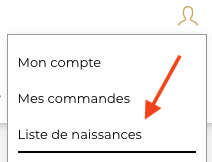 3) Add products
Add your articles thanks to the button that appears on the articles
Add to birthlist
4) Modify your birthlist
Modify your list at any time from your account
5) Share your birthlist
Share your birth list from its editing page
Your benefits
Simple and free
Manage your birthlists for free
Financial participation
Receive gift vouchers that you can freely use on the products of your choice.
Follow-up of contributions
Receive an email for each participation of your loved ones
Our childcare experts
Our experts are at your service for any information
Au Berceau d'Or Gift
Receive 10%* as a gift voucher at the closing of your list
*Not included: Babyzen
The essentials
Baby is coming… What should I add to my list? Help yourself to our list of essentials so you don't forget anything!